Farmers Market - Bedford & Forest
Bedford Farmers Market
Click HERE to Shop Online!
*Currently Closed Until Further Notice
Tuesdays 3:00 PM - 6:00 PM
Fridays 7:30 AM - 1:30 PM
Food Trucks 11:30 AM - 1:30 PM (Friday)
First Saturdays 9:00 AM - 1:00 PM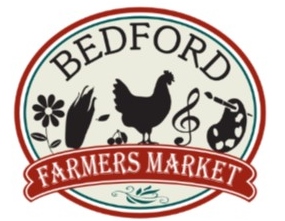 Text BedfordFM to 84483 for market schedule reminders to your phone each week.
The Bedford Farmers Market offers fresh, locally grown produce, meats, plants, and artisan goods located at the Centertown Pavilion (Corner of Washington and Center Streets) each week.
The First Saturday of each month, the market offers a family-friendly gathering place for the community, where local farmers, artisans, and craftspeople can display and sell their work and produce. Live music and fun kid's activities are each month. Please see our schedule. There are three convenient days and times to fit every schedule.
The Bedford Farmers Market is a collaborative effort between the Bedford Area Family YMCA, Bedford Main Street, Bedford Area Chamber of Commerce, the Farmers Market Management Team, Town of Bedford, Bedford County and many other community businesses and organizations.
Don't miss this opportunity to purchase the freshest food and produce while supporting local business. For more information or to reserve a space at the Bedford Farmers Market, contact Jana Fedele at the Bedford Area YMCA at 540-586-3483. Daily, weekly and combination fees available.
Visit the Bedford Farmers Market Facebook for more information. Look for us on Instagram at
http://www.instagram.com/bedfordfarmersmarketva or Twitter https://twitter.com/bedford_market
Visit the Bedford Farmers Market Webpage for more information.
Forest Farmer's Market
Due to the COVID-19 outbreak, we will not be having the April 11th market. Follow Forest Farmer's Market on Facebook for the latest updates.
Saturdays
8 am to noon
15583 Forest Road
Forest Va. 24551