Welcome to the Bedford Area Chamber of Commerce!
"It is a well-managed organization that puts the needs of local business first. In today's fast paced business environment I rely on the Chamber to keep us informed of the needs and concerns of our community. It is important for businesses to support the Bedford community in which we work, live, and play."
Jim Mercadante, General Manager , Cintas Corporation
"The Bedford Chamber gets to know its members and genuinely has their best interests at heart. As new members we've been constantly impressed by the organization, drive, and enthusiasm of the entire chamber staff."
John Hall, Advisor , Lynchburg Wealth Management
"Our Chamber, because of its strong leadership, dedicated staff and numerous volunteers, provides an excellent service to its members. Our Chamber has its finger on the pulse of local/state initiatives and challenges. Every area business should become a member of the Bedford Area Chamber of Commerce. "
Jim Burns, Human Resources Manager , CommScope
"Servpro has been a member of the Bedford Area Chamber of Commerce for many years now and knows without a doubt how hard the employees and fellow Chamber members work to bring us business. Being a member of the Chamber is not only about getting business, but developing relationships with other business owners so you can refer business to them as well."
ServPro
"As a business owner, I would have to say that joining the Bedford Chamber is one of the fastest ways to become recognized locally. When I joined the Bedford Chamber, I immediately realized, this is one of the best decisions I made for my business. I have so enjoyed getting to see what the Bedford Chamber does for the area and the small businesses in Bedford County. I am so impressed with the community of members and the value you provide for these events. Networking is so key to the growth of small business and the Bedford Chamber is such a vital connection to make it happen."
Brett Howell, Synergy Develops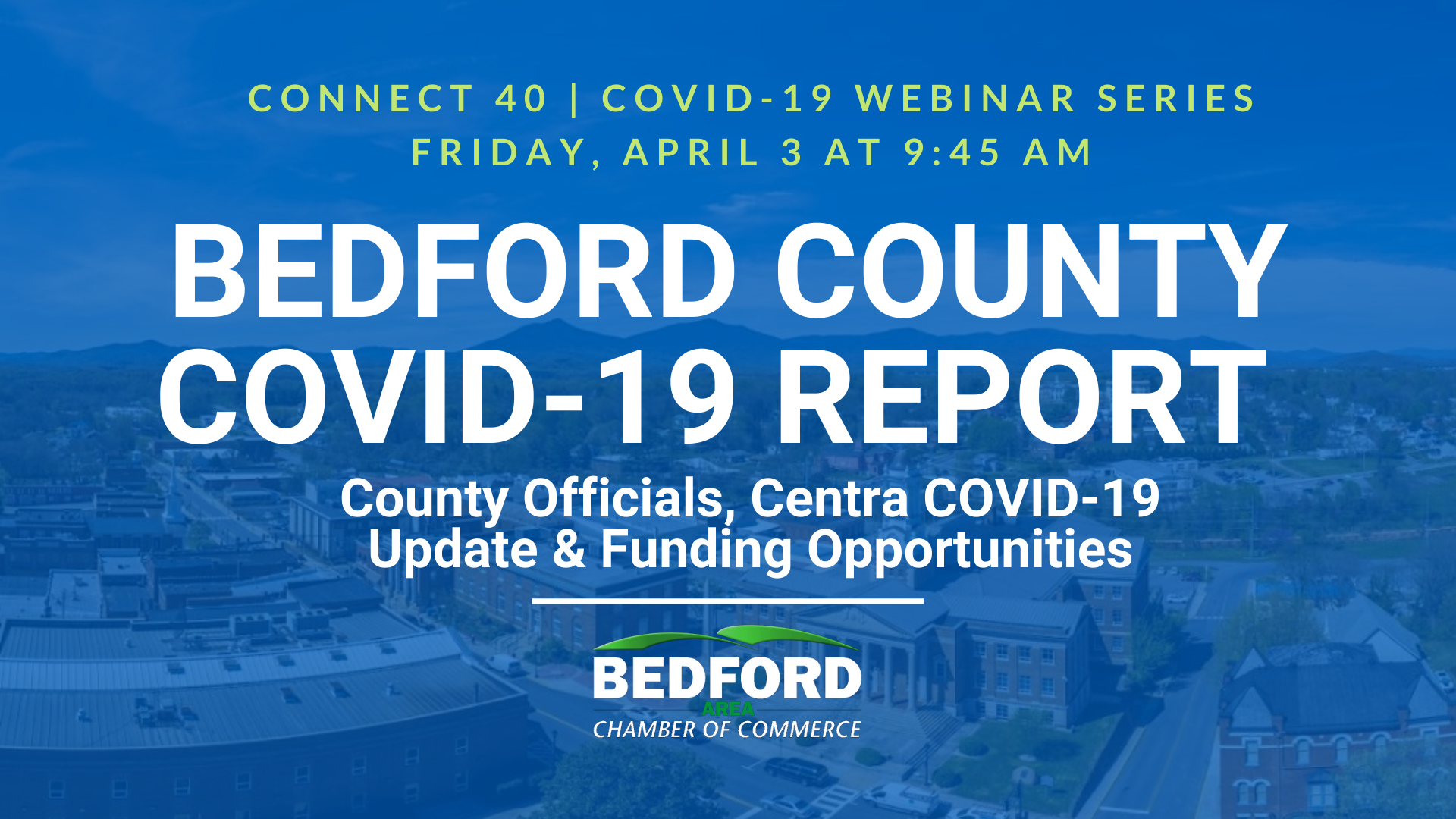 Bedford Community COVID-19 Update with Bedford County officials along with the latest funding opportunities available through the SBA.
Traci Blido – Bedford County Director of Economic Development
Bill Bass – CEO of Centra Bedford Memorial Hospital
Sheriff Mike Miller - Bedford County
Dawn DeHart - Carter Bank - SBA Loans
You are a valued member of the Bedford Area Chamber of Commerce and your health and safety are important to us. Our community's health and safety are of the utmost importance to us so we have decided to "postpone" a few large gathering events until the end of April. As the spread of coronavirus, known as COVID-19, continues to be a growing concern across our country, we are taking precautions to protect you, your business and the communities we serve.
-Annual Dinner & Awards Gala rescheduled for Friday, June 12th, 2020.
-Career & Tech Expo rescheduled for October 23rd, 2020.
-Legislative Wrap up Breakfast – Friday, May 1st, 2020
We are encouraging you to read and seek out all the information that is available to you right now. We are continuing to come together in collaboration with our local Chambers to best serve the Bedford Area. The Lynchburg Regional Business Alliance has formed the Regional COVID-19 Business Support Task Force of which Traci Blido, Bedford County Economic Development Director is serving as our Bedford representative.
We encourage you to join for our first Connect 40 webinar on Friday. Centra will provide the latest local COVID-19 update & we'll provide information about business financial assistance opportunities that are available to you.
We are committed to keeping you informed through this rapidly changing situation. Stay healthy and wise and we will help assist where needed for our business community.
Supporting your business,
Wende Gaylor
President/CEO
Bedford Area Chamber of Commerce
Wende@baccva.org
The Bedford Area Chamber of Commerce is an organization of business and community leaders working together to serve the interests of our members by providing programs and services which improve the economic vitality of our community enhancing the business community through advocacy, education and networking